99% of women rescued from slavery return to prostitution
Our Mission: Empowering women with Christ-centered training to facilitate restoration.
Equipping Anabaptist women ministering to women at risk with multi-faceted, gospel centered training.
Restore training is a six-month program which includes general missions in NYC for 6 weeks, an online certificate in trauma and crisis care, and other out-sourced training programs. Trainees are paired with a personal coach and receive in-depth mentoring and accountability.
Are you ready to start? This will guide you through the application process. You may submit your application without any set obligations. We will follow up with a consultation and opportunity for questions.
Opportunities

for Trainees
There is a large gap between raising awareness and engaging in proactive solutions. The long term solutions require discipleship both for our trainees and women at risk.

We believe our Anabaptist women can engage in the cause of freedom and exercise the gifts and experiences they have had to further the kingdom of God in the lives of women at risk globally.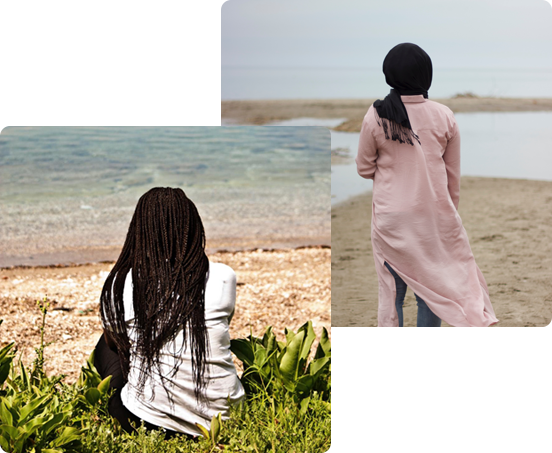 In 2015, we faced the realities of the refugee crisis in Greece, and the startling number of women traveling alone and vulnerable to trafficking and abuse. This birthed the dream to see our women equipped with gospel-centered training to enter into the hard places. All of us on the Restore team developed a passion for ministry to women at risk through our own stories and the ministry God called us to.
In 2017, it was proposed to the Destinations International Board that they oversee a subcommittee of women focused on proactive solutions to the problem of trafficking and sexual trauma. This developed into a committee of women who compiled outsourced materials from experienced professionals to provide a multi-faceted, holistic approach to caring for the abused.
In 2020, our training was launched! We envision an alumni of trained women who will network with existing anti-trafficking initiatives, and commit long term to the fight for freedom and restoration.

Kate Kleinsasser
Kate Kleinsasser lives with her husband Eric in Athens, Greece where she works with refugee women at risk.

Donna Kauffman
For four decades, Donna has loved her involvement in teaching women, inviting them deeper into the gentle, healing heart of Jesus.

Deborah Blank
Deborah is passionate about assisting her husband, Henry with the work of Destinations International, as well as mentoring women and girls around the world.

Starla Schlabach
Starla is honored and blessed to be involved in ministry with her husband, Mark and mentoring and teaching women.

Renita Petersheim
Renita Petersheim and her husband, Daryl, live with their six children in Fredericksburg, PA and pastor Family Harvest Mennonite Church.
Use this form to contact us if you are interested in training or if you need some more information.
We are a non-profit ministry under Destinations International. If you would like to support this work, you may contact us through the form above or make contributions directly through the Donate button.